President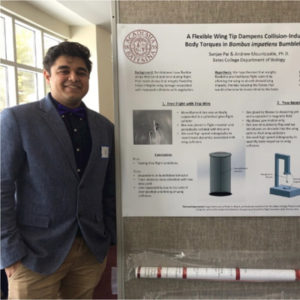 My name is Sunjay Pai, and I graduated from Bates College in Lewiston, Maine in 2018 with a degree in Biology. My goal with starting this program is to provide motivated, underrepresented students equal access to resources and tutoring services in order to reach their higher educational aspirations. SAT scores, while vital to attend numerous colleges in the U.S., are only one portion of the admissions process. I will provide insight and guidance on college choices and admissions essays in order to provide these students the utmost support.
Vice-President
My name is Goh Kobata. I graduated Bates College in 2018 with a B.A. in Economics. My SAT score was in the 99th percentile with a score of 2280/2400.
During high school, I did not start out as a high academic performer or as a skilled standardized test taker. My high school GPA was low (close to a 2.0), and I did not start studying for the SAT until late into the first semester of my senior year. Although I was not able to salvage my high school GPA to a competitive undergraduate-candidate standard, I was able to bring my SAT score up without a tutor to a level that helped offset my low GPA. My goal through this program is not only to provide SAT tutoring, resources, and essay advice to students, but also to let them know the lessons I had learned while applying myself. While the SAT is only part of the admission process, a high SAT score may mitigate any shortcomings and help make students stronger candidates. I hope that my experiences and SAT preparation strategies will help students in their admission journey!